Hosted Payment Page

Our Hosted Payment Page is a secure webpage that you can incorporate into a website. By connecting our Hosted Payment Page to your website, you are integrating with the Cashflows Gateway and all of the functionality that comes with it for processing online payments. You direct shoppers to our Hosted Payment Page where they check out and pay. We take care of the processing, including security aspects and many of the technical complexities. Then when we have finished the payment processing, we redirect the shopper back to your website.

Key features
Our Hosted Payment Page offers:
Secure storage
Cards are securely stored in a way that a shopper's card details are never revealed at any stage of the payment process. For a smooth payment experience, our Hosted Payment Page presents previously stored cards to shoppers making it a fast and convenient way for your regular customers to pay.

PCI compliance
Shoppers can safely enter their card details and pay with confidence. When we have finished processing a payment, the shopper can be redirected back to your site.

3-D Secure
3-D Secure services (up to version 2.2) from Visa (Verified by Visa) and Mastercard (SecureCode) are included.

Optimisation for mobile devices
Our Hosted Payment Page is mobile ready. You don't need to change it or write any extra code.

Full customisation
You can use the default Hosted Payment Page as we provide it or you can customise the look and feel to match the other pages of your website. For example, you can add your logo, apply your branding, font, and colours.
The default Hosted Payment Page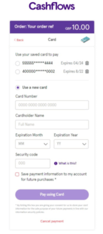 An example of a customised Hosted Payment Page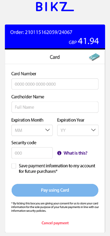 For information about how to customise a Hosted Payment Page, see our Hosted Payment Page guide.
The benefits of using a Hosted Payment Page
If you're the owner of an online business, this means:
No need to pay for security certification
Payment Card Industry Data Security Standards (PCI DSS) require that webpages that accept credit card information must have SSLv3 128-bit minimum certificates. Our Hosted Payment Page has a 128-bit to 256-bit certificate that provides functionality that the PCI Security Standard Council recommends as best practice for providing extra shopper confidence and awareness. This includes displaying a padlock icon or green address bar.

For more information about best practices, as recommended by the PCI Security Standard Council, refer to Best Practices for Securing E-commerce.

Reduced compliance costs
PCI DSS also states that any website that accepts card information must never store the security code. If a website does store card details, it must be 256-bit AES encrypted. Most web servers log traffic to and from them which may include card numbers. To ensure that card numbers are not being stored, these logs would need to be audited on a continual basis. If you use our Hosted Payment Page, we take care of this for you.

If you use our Hosted Payment Page, you can avoid capturing card details on your website altogether. This relieves you of the associated compliance and security responsibilities. We take on this burden instead as we capture the card data directly. Our Hosted Payment Page is a great solution if you don't want to host card data yourself but still want an easy and smooth checkout experience on your website.

For information about PCI DSS and the security requirements that you need to be aware of, visit the PCI Security Standards Council website.

Modern integration
Our Cashflows Gateway uses the latest integration practices to provide security and flexibility. If you need help, contact the our Technical Support team or your account manager.
For more information download: