PayPal on the Cashflows Gateway
We have connected our gateway into the PayPal APIs so that you can offer PayPal to your shoppers via a Cashflows Hosted Payment Page. We've included a connection into the PayPal refund API so that you can manage refunds via Cashflows Go, just like a card transaction.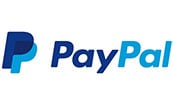 Benefits of PayPal

PayPal through our Cashflows Gateway brings consolidated reporting via Cashflows Go. All transaction details (including refunds) are in one place to provide accurate reporting across payment methods.

PayPal also increases choice and confidence for shoppers when it comes to paying. This can boost shopper loyalty and encourage shoppers to keep coming back.


Additional fees
Using PayPal through our Cashflows Gateway does not incur any additional fees from Cashflows. However, we charge a 'per click' fee in line with your pre-agreed gateway transaction fee. PayPal has separate fees for using their service.

Link your PayPal account to your Cashflows account
If we're hosting your payment page for you, you can add PayPal as a payment method. Before you can do this, you need to have a PayPal account that you can link to your Cashflows merchant account. Once you have done this, please contact us and we will make the PayPal payment method visible for you to configure. To configure PayPal go to Cashflows Go -> Configuration -> Payment Methods -> PayPal -> Connect PayPal Account. From there you follow the steps provided by PayPal.

Displaying PayPal on your payment page
To display PayPal on your Hosted Payment Page, you need to activate it as a payment method. To activate PayPal, you need to sign into your Cashflows account via Cashflows Go. From there go to -> Configuration -> Payment Methods -> Cards -> Enable PayPal.

Integrating PayPal
We have added PayPal to our Hosted Payment Page. However, because PayPal is not a card-based payment method, you may need to change your integration to support PayPal. For information about the integration changes that you may need to make, you can find an integration guide on our Cashflows website: Adding a Cashflows hosted payment page to your website.